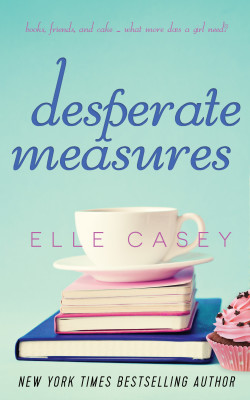 Drawn together over a love of books, three women strike up an unlikely friendship, and end up forming bonds that move well beyond what any of them ever imagined possible. Desperate Measures serves up laughter, romance, cookies, tea - and a whole lot of love. Aimee: A housewife left in the dust by her philandering husband, with an outdated high school education but a serious talent when it comes to confections... Elizabeth: An accountant tired of crunching numbers for hundreds of clients with more money than they know what to do with... Kiki: An exotic dancer who wants nothing more than to get out of the game... [Formerly titled Desperate Measures Trilogy: Book 1, Full Measure, published under Elle Casey's alter ego, Kat Lee.]
About the Book
HERE'S WHAT READERS ARE SAYING ABOUT DESPERATE MEASURES:
"The friendship that the three leading ladies have is priceless and the men they coming into their lives are just as awesome. Such a cute, funny endearing story with some pretty exciting moments… to boot. It's a must read…" ~ Kindle Customer, Amazon
"I am a huge fan of Elle Casey/Kat Lee so when I saw this book pop up on Amazon I had to get it! I love that out of the three girls you can identify with at least one, if not all of them. I highly recommend this book for a great read and laugh, I loved it! Keep 'em coming!" ~  LisaDan, Amazon reviewer
"Elle Casey (Kat Lee) is proving to be my new favorite author… Full Measure is both entertaining and insightful. The characters bloom in front of you. I don't normally write reviews, but this just got to me. I found myself relating to all of the characters in many ways…" ~ aapbutterfly, Amazon reviewer
"I loved this book… It has drama, action and hilarity. I actually laughed out loud quite a lot. I adored Betty and her comments. The characters are three ladies that you wish you became friends with. I recommend this to anyone who is looking for a great story and laughter." ~ Shara, Goodreads reviewer
A note from Elle about this book: Being a huge bookworm myself, the idea of writing a story about friends finding one another through books was really appealing to me. One thing I've learned about people who love books is that they come in all shapes and sizes and from all backgrounds and places, but the common ground of literature somehow makes everything work. When I was younger, I was the only bookworm I knew. Now that I'm an adult, I've found the joy of seeking others out and spending time with them. It's like a whole new world has opened up to me, and so of course I wanted to write about it! Not that I have a former stripper in my book club or anything…
Other Books in "Stand-Alone Novels"