I hope you enjoy this new release.  It's different than my other stuff, but already getting great reviews.  🙂  Here are the links to buy if you want to check it out.
AMAZON USA: http://amzn.to/YantP6
AMAZON U.K.: http://amzn.to/100lBoG
AMAZON ITALY: http://amzn.to/11SlUWp
AMAZON FRANCE: http://amzn.to/13I7etc
AMAZON SPAIN: http://amzn.to/11TNfq4
AMAZON GERMANY: http://amzn.to/12Wo4Wl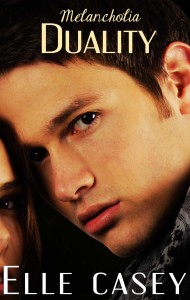 Malcolm's had a problem for as long as he can remember. No matter where he goes or what he does, he leaves misery in his wake. Sadness and negativity are his constant companions, influencing others around him until they cannot bear to live.
But then Rae shows up in his life, and everything changes. Darkness cleaves to light. Anger yields to joy. The question is whether she'll be his salvation or his destruction.
DUALITY is a 3-book Young Adult/New Adult Paranormal Romance. Volume 1 will be published April 30, Volume II May 31, and Volume III June 30, 2013.