Get your teenagers reading!
Did you know that April 16th is National Celebrate Teen Literature Day?  Elle is joining the fun and celebrating with a special 99¢ deal on 3 of her Young Adult titles for 3 days only: Tuesday April 14th-Thursday April 16th.  Oh, and a free book, too!
Read on for more!  Below, you'll find out about:
How to get Elle's National Celebrate Teen Literature 3-Day only deal (don't forget to buy a copy for a young reader you know who might be interested).
Elle's favorite reads from her childhood.
---
3 YA books on sale for 99 cents for 3 days only:

 APOCALYPSIS is a 4-book, YA Post-Apocalyptic, Science Fiction series suitable for older teens and adults.
APOCALYPSIS, Book 1 (Kahayatle): $2.99
99¢ for 3 DAYS ONLY
 Amazon US: http://amzn.to/10Jn3Ni
Google Play: http://bit.ly/1DqgDLI
iBooks: http://apple.co/19Hiz4R
Kobo: http://bit.ly/1aG8MMQ
My name's Bryn Mathis. I'm seventeen years old, and I live in a neighborhood outside of Orlando, Florida. I live alone because my dad died almost a year ago, along with all the other adults in the world. I'm almost out of food, and the gangs of kids that roam around my town are getting more vicious by the day. It's time for me to leave and find another place to live … a place where I can find food and shelter … a place where they won't be able to find me. Alone, it might have been possible; but now I've got company, and I'm worried that I don't have what it takes to get from here to my final destination. And I have no idea what might be waiting for me when I get there.
**Contains violence and some foul language.**
---

DUALITY is a 2-book Young Adult/New Adult Paranormal Romance.
 Duality, Vol 1: Melancholia: $4.99
99¢ for 3 DAYS ONLY
Amazon US: http://amzn.to/YantP6
iBooks: http://apple.co/1yi7534
Malcolm's had a problem for as long as he can remember. No matter where he goes or what he does, he leaves misery in his wake. Sadness and negativity are his constant companions, influencing others around him until they cannot bear to live.
But then Rae shows up in his life, and everything changes. Darkness cleaves to light. Anger yields to joy. The question is whether she'll be his salvation or his destruction.
---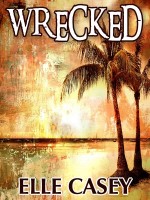 WRECKED is a a 2-book Young Adult Adventure Novel.

Wrecked, Book 1: $4.99
99¢ for 3 DAYS ONLY

Amazon US: http://amzn.to/1CGdikE
Is your teen constantly on the go? The Unabridged Audiobook is available from Audible: http://bit.ly/16RHJGs for Free with a 30-day trial membership to Audible.  12 hours of listening!
High Seas and High Adventure from the author of the War of the Fae and Apocalypsis series.  If you liked The Breakfast Club and The Swiss Family Robinson, you'll love WRECKED!
An ill-fated Caribbean cruise and four teenagers: a nerd, a jock, a mouse, and a beauty queen…an island, a treehouse, some nefarious interlopers…life and death…fear and loathing…love and laughter.
Follow Jonathan, Kevin, Candi and Sarah as they find their typical high school lives and their worlds totally WRECKED.
**Contains some foul language and non-explicit sex scenes between older teens.  May not be appropriate for younger, middle-grade teens.**
---
War of the Fae is a 7-book YA Fantasy series suitable for older teens and adults. (Books 8-10 coming soon!)
The Changelings (War of the Fae Book 1)
Book 1 is FREE!
 Amazon US: http://bit.ly/1111Tpr
iBooks: http://apple.co/1DlHxi0
Google Play: http://bit.ly/1EquIYF
Kobo: http://bit.ly/1E54knF
Jayne Sparks, a potty-mouthed, rebellious seventeen-year-old and her best friend, shy and bookish Tony Green, have a pretty typical high school existence, until several seemingly unrelated incidents converge, causing a cascade of events that change their lives forever. Jayne and Tony, together with a group of runaway teens, are hijacked and sent into a forest, where nothing and no one are as they seem. Who will emerge triumphant? And what will they be when they do?
---
Elle Casey's favorite reads from her childhood.
Have you and your teen read all of Elle's books listed above?  Do you want to read the same books that inspired Elle to become a writer?  Here are some of her favorites:
The Girl Who Owned a City by O.T. Nelson
A Wrinkle in Time by Madeleine L'Engle
Children in Hiding by Charlene Joy Talbot
The Secret Garden and The Little Princess by Frances Hodgson Burnett
Are You There God? It's Me Margaret by Judy Blume
Oliver Twist by Charles Dickens
And about The Boxcar Children by Gertrude Chandler Warner, she says, "I only ever read the first book in the series, but I swear I read that thing maybe 30 times! Even as an adult I've gone back and re-read it. That was my first kind of post-apocalyptic read. Of course the world was still turning, but the main characters' parents died and they were basically shoved out of the real world and into one of their own making, surviving using their own ingenuity. I read anything similar that I could get my hands on after that."
Don't forget, the love of reading is a priceless gift that you can pass on to the next generation.
Happy reading! –Elle