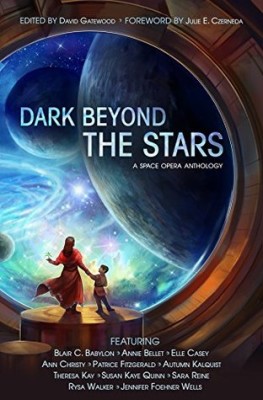 From humanity's first contact with alien life, to the challenges of space travel, to colonies established light years from Earth, this anthology celebrates the wide sweep of space opera at its most sublime. Eleven of today's bestselling authors join forces to bring you these tales of action, adventure, and brilliant imagination. There are worlds beyond worlds out there to explore, and millions of stories spinning across the galaxies. So sit back and be transported... to the dark beyond the stars. Elle Casey's contribution is a short story prequel to the Drifters' Alliance series, entitled "Winner Takes All."
About the Book
Winner Takes All, Short story prequel to the Drifters' Alliance series.
If you're a fan of my sci-fi series Drifters' Alliance, you'll be very happy to know there's a prequel in there that leads up to Cass getting her ship, told from Langlade's perspective. And if you're a fan of sci-fi in general, the reviews say the stories inside this anthology are excellent. Take it from me – reading an anthology is a great way to discover other authors, especially if you're new to the genre.
Description of Winner Takes All:
Langlade, captain of the Kinsblade Fleet, has pulled into a station for some repairs to his ship—and to share a little down time with whatever willing female he can find to warm his bunk. But on this stop it's not just a dockside dolly tempting him to stay, it's a game of chance. There's a card game with a very interesting proposition from the girl across the table: his number three ship anted up against the gift of her innocence. And one would be hard-pressed to determine which is the more valuable pot out here in the badlands, otherwise known as Centurion 4, the farthest Dark Settlement Station in the Triangulan Galaxy.
HERE'S WHAT READERS ARE SAYING ABOUT DARK BEYOND THE STARS:
"Full of rich and engaging stories"
"A diverse universe packed with strong female characters"
"Great collection of thought-provoking stories"
"In deep space, no one can hear you scream about how sensational this anthology is!"
"An excellent collection of stories that harkens back to Asimov, Heinlein and Clarke"
Dark Beyond the Stars is currently available exclusively on Amazon. That doesn't mean you need a Kindle to read it. You can download the free Kindle app, and then read the book on any device. Enjoy!
Other Books in "Anthologies"