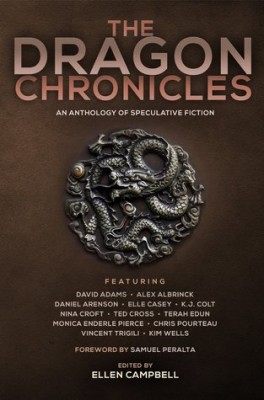 Dragons. They are more than a memory from an age of wizards and heroes. These winged, fire-breathing beasts soar through the traditions of many lands, and through our dreams. In their many guises – Western or Eastern, reptile or lizard or serpent, wyvern, hydra, basilisk – dragons embody everything that we humans call magic. In this volume of the acclaimed 'Future Chronicles' anthology series, twelve authors invite you to journey to very different worlds – lands of fire and fury, of legend and lore – but all worlds where dragons roam unshackled from myth, freed from the imagination, and real. "The Dragon Chronicles" features stories by bestselling authors Elle Casey (War of the Fae), David Adams (Ren of Atikala), K.J. Colt (Klawdia), Terah Edun (Courtlight), and Daniel Arenson (Dragonlore) plus seven more of today's most visionary authors in fantasy and speculative fiction. Elle's story is titled, "Ten Things You Should Know About Dragons."
About the Book
Ten Things You Should Know About Dragons, short story tie-in to the War of the Fae series.
If you're going to train to be a Dragon Rider, you need to know the basics, and Ishmail Windwalker is the guy to teach them to you. In fact, he's the only one left to teach anything to anyone about Dragons, being the last of a dying breed. Join him as he gives a seminar about Dragons and their partners and keepers, the Dragon Riders.
The Dragon Chronicles is currently available exclusively on Amazon. That doesn't mean you need a Kindle to read it. You can download the free Kindle app, and then read the book on any device. Enjoy!