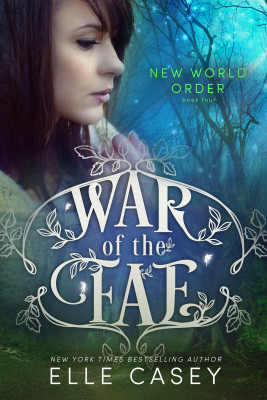 New World Order is Book 4 of 10 in the War of the Fae, YA Urban Fantasy series. Will the fae will be able to make the sacrifices they must to survive? ... Jayne Sparks and her Light Fae changeling friends face off in the final battle against their enemies. But the identify of their true enemies isn't as clear as it once was. Are they the ones breaking down their doors ... or perhaps another entity, hiding in the shadows? Friends come and go, bridges burned are rebuilt, love is lost and found. The survival of the fae depends on the answer to one question: Which burns hotter ... hatred or hope?
About the Book
WAR OF THE FAE SERIES READING ORDER:
The Changelings (War of the Fae Book 1) **Free ebook at most retailers**
Call to Arms (War of the Fae Book 2)
Darkness and Light (War of the Fae Book 3)
New World Order (War of the Fae Book 4)
After the Fall (War of the Fae Book 5 – Formerly titled Clash of the Otherworlds, Book 1)
Between the Realms (War of the Fae Book 6 – Formerly titled Clash of the Otherworlds, Book 2)
Portal Guardians (War of the Fae Book 7 – Formerly titled Clash of the Otherworlds, Book 3)
Time Slipping (War of the Fae Book 8)
Dragon Riders (War of the Fae Book 9) **Coming soon**
Winged Warriors (War of the Fae Book 10) **Coming soon**
HERE'S WHAT READERS ARE SAYING ABOUT WAR OF THE FAE, BOOK 4:
"This series was very hard to put down. I must confess that I laughed and cried throughout this wonderful journey… I would love to see a movie or mini series form from this. Elle Casey has jumped by leaps and bounds to my personal top authors, sharing the space with David Dalglish, R.A. Salvador, Ed Greenwood and Anne McCaffrey….she kicks ass." ~ Dave Snow, Amazon reviewer
"I cannot begin to explain how much I loved this series. LOVE, LOVE, LOVE!!! I am recommending it to everyone I know!! Such a fun read. Great characters and action. Will not disappoint. Jayne is one of those lead characters that you will just fall in love with. Funny, strong, and extremely likeable. I lost track of time while reading these books. Didn't know what day it was, what time it was…or what my family was doing!!! 🙂  Elle Casey reminds me why I love to try new authors." ~ Cristina, Goodreads Reviewer
"This book is designed for teenagers and young adults, but it's such a humorous story that any reader will enjoy it. The characters are still just as funny as they were in the other books…This is a must read for anyone who loves fantasy, magic, and a funny story that is extremely complicated but so well-written that you don't even notice all the complexities." ~ J.C. Cauthon, Goodreads Reviewer
"I love this author… I love that she doesn't spend page after page of boring recap from the previous book. She writes in a manner that will have you laughing out loud (which means people look at me funny because they have no idea what i am doing), crying when she sets it up, and as you read you feel the emotions the main character does. I have read some other series she has done. She always pulls you in and doesn't let you go until she is ready." ~ adelie21, Amazon reviewer
About this series: A reader fan recently set up a blog dedicated to casting the actors for the War of the Fae movie. No, it is not in production to be made into a movie, nor have I sold the rights to anyone for the movie. But just in case I ever do, my fans will be sure the casting director has a complete line-up ready! Click here to check it out.
Don't forget to check out my inspiration for the War of the Fae series on Pinterest!
Other Books in "War of the Fae"