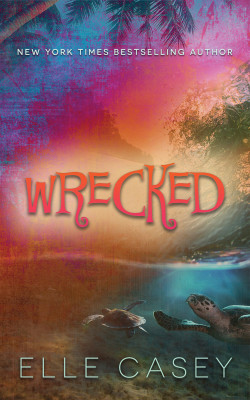 After their cruise goes horribly wrong, four very different teenagers find themselves shipwrecked on a tropical island. When forced to work together, they discover they have more in common than they ever imagined ... CAST AWAY meets THE BREAKFAST CLUB in this fun read from a NEW YORK TIMES bestselling author. ~BookBub
About the Book
With over 550 5-star ratings on Goodreads, readers love Wrecked!
HERE'S WHAT READERS ARE SAYING ABOUT WRECKED:
"AMAZING, AMAZING, AMAZING! I'm not sure how to begin this review and remain professional… so I'll just be honest. I FUDGING loved this book! (SOOO SOOO MUCH!) It was fantastic!=)…" ~ Nancy Figueroa, Tumbling Books, book blog
"A Fun Debut Novel! My favorite part of the book was their time on the island. The character dynamics were well done, and Casey clearly put a lot of thought into what they would need to do to survive, not just physically but emotionally. This was a fun book and a promising debut novel…" ~ Ally Arendt- Word Vagabond
"Fun read! I am a big fan of young adult books, this is one of my favorites. I have actually re read this book multiple times." ~ Hipsterduck, Amazon Reviewer
"This book, for lack of a better word, was amazing. From the character intros, to the last page, I was intrigued. Elle clearly understood teens, because all of their motivations and goals were believable; even the way in which they became stranded was believable. I LOVED EVERY aspect of this book. I definitely recommend it, a must-read." ~ Brandon, Goodreads Reviewer
A note from Elle about the series: I pretty much grew up on the East Coast of Florida, so I went to the beach a lot, and whenever I did, I was always looking out at the water wondering … "What if…?" What if I were stranded out on a boat somewhere, in shark-infested waters, and then washed up on a beach of a deserted island… How would I survive? For probably 30 years or more, I contemplated these questions every time I went to the beach or thought about the water, so I had a LOT of time to think about the details. This book was inside my head, in the making, for a really long time. That's why it's the first book I wrote, because it was finally time to get it out of my head and onto paper (or I should say, into my computer). When I found out about self-publishing for the Kindle, I thought, "What the heck? Maybe someone will like it as much as I do." Now, several years later, with over 40 books written and a few spots on the New York Times and USA Today bestseller lists, I can say that it was one of the best decisions I've ever made. It literally changed my life. I'm really glad that I spent so much time daydreaming while I was at the beach, and I'm even happier that I took a chance on this story and shared it with the world. 🙂
**SEQUEL ALERT** This book was originally written without plans for a sequel. But so many readers asked for one, it was done. Published on December 31, 2012, RECKLESS picks up where WRECKED left off.