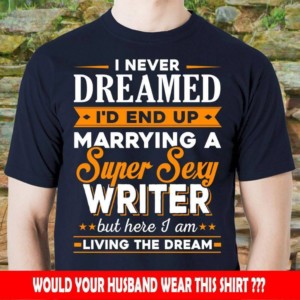 Read on for more of Noelle's interview with my husband, Craig. And of course he'd wear that shirt! 🙂

In 2012, her first year of self-publishing, Elle wrote Wrecked (YA action adventure), the War of the Fae (contemporary urban fantasy) series and the Apocalypsis (dystopian) series. When and why did she decide to write romance?
Craig: She had a great following for her earlier titles, but neither one of us is from the publishing industry so we had to learn as we went along. By watching the sales of others in the romance genre it was obvious that it was a much larger market. It was clear that Elle was a skilled storyteller and could develop characters that readers connect with, so she figured why not try romance. She's always been a big reader of the genre and I knew Elle could write, so why not try?
What was your initial reaction to her decision to branch out to the romance genre?
Craig: I suppose I had some misgivings about genre shifting, but like I said in last week's interview, if she sets her mind to something, there's no sense in arguing.
Did you read romance before Elle started writing it?
Craig: Nope, in fact I never read much of anything before I met her. It sounds stupid to say now, but I was always jealous of her books. She'd sit in a chair and laugh or cry over what she was reading and I was always wanting to go out and do something. I thought it was a waste of life to sit and read when we could be out making our own story. She really opened my eyes to the attraction of books and now I've got several on my phone and at least one on my nightstand all the time. I guess it's a classic case of "if you can't beat 'em, join 'em".
Elle has dedicated 3 of her books to you: By Degrees, Mismatched and Wrong Question, Right Answer (Book 3 in the Bourbon Street Boys series, forthcoming). She's published a total of 40+ titles, and you're the person she's dedicated the most titles to. Why?
Craig: I don't always see the final edited version of her books so I didn't realize that she'd done that. That's really nice.
What's the best and worst thing about being married to an author?
Craig: The best thing is that I get to see my lover/friend do something that gives her fulfillment and makes her happy. When Elle first started, I saw that she was a great fit for the work; she could type like a speed demon, was good on the computer, could make great covers and handle all the formatting, etc. Once she started getting reviews from readers that enjoyed her work it really made her happy to hear their comments. The worst thing is seeing her stressing over deadlines.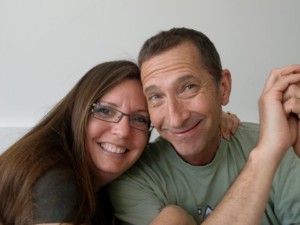 To find out more about what it's like chez Elle Casey when a deadline is looming, check back next week for the next installment of the Married to a Writer blog series.