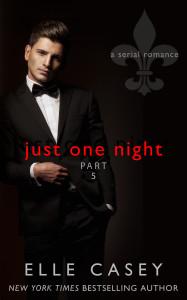 Hello, readers! I just uploaded Part 5 of the JUST ONE NIGHT serial romance, and I'm pretty sure I'll be done with Part 6. That means after that last part is published, I'll be putting up a full novel of all the parts together at $7.99, AND I'll be increasing the price of the serial parts to be more than that in total. So that means if you've been sitting on the sidelines waiting to buy in, better not wait too much longer! Early buyers get a better deal. I like to try and find ways to reward my loyal readers and this is one of those ways.
I've really enjoyed writing this series and do have plans to do Edward's story, but I'm not sure when I'll start it. I have lots of books swimming around in my head waiting to be written. This summer is going to be crazy busy with my writing schedule and my family life too. I plan on 5 hours of sleep a night so I can fit it all in. 🙂
Part 6 of JUST ONE NIGHT will be out in two weeks or so and then I have a YA literary fiction/romance to finish that I'm actually going to shop around to be traditionally published. I'll probably post about that separately because I know people will be curious why I'd do that when I've had such great success with self-publishing.
Anyway, thanks to all my readers who've taken the time to leave me reviews. I especially love those with all the stars, but also appreciate any comments that help me do a better job on my next books. I hope you're all having a great summer, and I look forward to creating more great reading escapes for you in the near future.
Much love,
Elle