When I first started writing three years ago, I put my publishing schedule together each year in January. But last year it didn't work out so well. After several troll attacks that really had me questioning why I bothered to do some of the things I do, I took a step back from writing, from promoting, from pretty much everything involved in publishing books. As a result, I finished fewer novels than I had originally planned. It was a frustrating time for me, but with time came the ability to let it all go.
So now, I'm on a roll. I've figured out my publishing schedule through the end of 2015 already, and for the last 8 days, I've written over 6,000 words a day. It feels great. I guess the only thing getting in my way is that thing that distracts every writer. I call it … SQUIRREL!
There's nothing more intimidating than a blank page to a writer. Even for someone who's prolific, a writing goal set for the day is an obstacle to get over. That's where the squirrel comes in to make things even more difficult.
Today I was typing out my first paragraph of the day, and it crossed my mind that I hadn't checked on the health of a friend of mine who had a fall off his bike. I thought I should probably stop writing for a minute and send him a text.
SQUIRREL!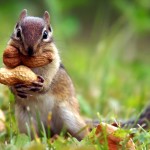 Fact of life for a writer: Any excuse to stop writing can and will present itself in the midst of writing towards a deadline.
I knew I'd meet my word count goal by lunchtime, so my friend's text could wait. I convinced myself to get back to writing and leave the texting for later.
I typed another paragraph, but as I started on another, I thought of a puppy I'd seen online that I really wanted to buy. I could just go look at her adorable picture once more…
SQUIRREL!
I had 1,500 words done and suddenly, I thought it might be a nice idea to do a load of laundry …
SQUIRREL!
And send an email…
SQUIRREL!
And post something to Facebook…
SQUIRREL!
And, and … and …
SQUIRREL!  SQUIRREL!  SQUIRREL!  SQUIRREL!
I think you get the idea. The writer's bane is a bunch of wild squirrels. The only way to manage them is to herd them into a little corner of the room and deal with  them after the word count is done. 🙂
The interesting thing is that once the writing is done, the herd of squirrels has dwindled down to almost none, little bastards that they are.