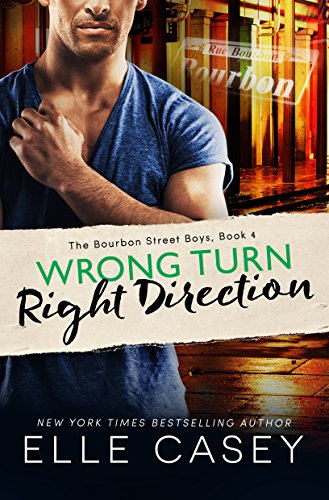 Tamika Cleary takes a wrong turn up a one-way street—and straight into Thibault Delacroix's leg as he steps into the road. But Mika's in a hurry, and she certainly doesn't have time for a guy who can't even look both ways before crossing, even if he does have a cute face, a body to die for, and the darkest, thickest eyelashes she's ever seen.Unfortunately for Mika, fate has other ideas. When she's threatened by her employer, a Russian mafia boss known as "The Thief", she's forced to accept Thibault's help. As the co-owner of the Bourbon Street Boys security firm, he believes he can keep her safe. But Mika has a whole load of trust issues—and the pushier Thibault is about helping, the more stubbornly she tries to resist.Mika may have taken a wrong turn the day they met, but will she finally let someone steer her in the right direction?
Order Now!
About the Book
Pre-order Book 4 in the Bourbon Street Boys series today!
Read Thibault's story in Wrong Turn, Right Direction.
Release date: March 21, 2017
Wrong Turn, Right Direction is published by Montlake, Amazon's imprint, and is exclusive to that platform. That doesn't mean you need a Kindle to read it. You can download the free Kindle app, and then read the book on any device, including a Nook or smartphone. The paperback will also available at Barnes & Noble, Walmart and Sam's Club, and you'll be able to listen to the audiobook on Audible or iTunes. Enjoy!
Other Books in "Bourbon Street Boys"