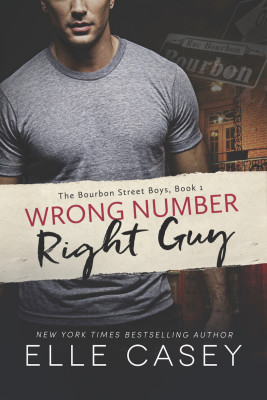 $9.99
eBook:
FREE on KU, price varies
Audiobook:
$9.95
When a mysterious text message summons May Wexler to a biker bar in downtown New Orleans, she knows something is very wrong. Her sister has sent out an SOS, but when May gets there, she's nowhere to be found and May is the one in trouble—she's wearing pink espadrilles, she's got a Chihuahua in her purse, and she's in the middle of a shootout. After tall, muscular Ozzie comes to her rescue, May has no choice but to follow him to safety. At the headquarters of his private security firm, the Bourbon Street Boys, she finds a refuge for the night—and the offer of a job. But it's not long before a gun-toting stalker isn't the only complication in May's life: the more time she spends with Ozzie, the less she can deny that they've got some serious chemistry. A wrong number got her into this mess…Will it also get her the right guy?
About the Book
With over 100,000 copies sold and over 1,250 Amazon reviews for Book 1, readers can't get enough of the Bourbon Street Boys!
HERE'S WHAT READERS ARE SAYING ABOUT WRONG NUMBER, RIGHT GUY:
"I loved every single page of this book. May was so much fun to get to know. And Ozzie, well, he had me from the beginning. I'm so excited to see what Elle Casey has in mind for the future of this series. You can rest assured that I will first in line waiting for the next book."~ Carol, Goodreads Addict
"I loved this book from start to finish and I laughed the whole way through. Elle Casey must have a wicked funny personality as when she writes humor, she does it soooooo well!!!!" ~ Jackie Kluyts, Kiwi Book Nerd, Goodreads reviewer
"I started Wrong Number, Right Guy last night and could've continued reading straight through… I literally laughed out loud from start to finish (I think I even pulled a muscle trying to laugh quietly in bed), in true Elle Casey fashion. It's one of the things I love most about this author. The overall story was unique, engaging and, like I've stated, funny. I really hope this turns into a series because I'd love to see some books about the other characters in this book. They all have very unique personalities and Ms Casey does a great job of making each person completely different from the next." ~ Desiree, Goodreads reviewer
Wrong Number, Right Guy is published by Montlake, Amazon's imprint, and is exclusive to that platform. That doesn't mean you need a Kindle to read it. You can download the free Kindle app, and then read the book on any device, including a Nook or smartphone. The paperback is also available at Barnes & Noble, Walmart and Sam's Club, and you can listen to the audiobook on Audible or iTunes. Enjoy!

Don't forget to check out my inspiration for the Bourbon Street Boys series on Pinterest!
Other Books in "Bourbon Street Boys"