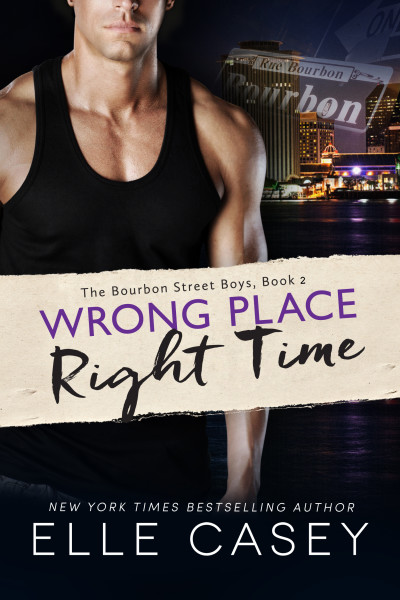 $9.99
eBook:
FREE on KU, price varies
Audiobook:
$9.95
Jenny's single-parent life revolves around her kids and her job, which means that hours of Animal Planet and strings of computer code are about all she has time for. Not that Jenny's looking for adventure or romance—she's the type of woman who believes in playing it safe. When Jenny is called upon to do some consulting for the Bourbon Street Boys—a New Orleans private security firm—she knows she should stay away. They conduct surveillance on known criminals and put themselves in harm's way pretty much every day, so No is the obvious answer…Problem is, there's a guy on the team with a body to die for and a dimple that just won't quit luring Jenny in, tempting her to throw all caution to the wind. Will Jenny take the risk or will she do what she's always done—play it safe and wait for the right time?
About the Book
With over 900 5-star ratings on Goodreads, readers love Jenny and Dev!
HERE'S WHAT READERS ARE SAYING ABOUT WRONG PLACE, RIGHT TIME:
"I really enjoyed the first book in the Bourbon Street Boys series and this one was just as good. It has everything you want, and more, in a romance novel. It's flirty, fun and packed full of excitement." ~ Whatsbetterthanbooks blog reviewer
"Sequels are tough to get right after a successful series starter. Casey knocks this out of the park as the books just get better. Jenny is hysterically funny, fabulously normal and most importantly the typical mom. Dev is the lovely giant at Bourbon Street with a heart of gold and very swoonworthy flirty conversations. He just melts your heart . . ." ~ Anima, Goodreads reviewer
"The dialogue really came from deep in the author's heart – pure – real and honest." ~ Jeri's Book Attic review
"Loved it!!! Could not put it down and did not want it to end!!! Love the humor, storyline and sizzle!" ~ Tracey J. Ward, Amazon reviewer
"Oh my… This book had it all, drama, romance with the characters … Passionate love and steamy, sexy, romantic relationships between the two characters in this story. Excellent storyline and I can't say enough about this author's books. Can't wait to read more…" ~ Stormy Lover, Amazon Reviewer
Wrong Place, Right Time is published by Montlake, Amazon's imprint, and is exclusive to that platform. That doesn't mean you need a Kindle to read it. You can download the free Kindle app, and then read the book on any device, including a Nook or smartphone. Enjoy!
Don't forget to check out my inspiration for the Bourbon Street Boys series on Pinterest!
Other Books in "Bourbon Street Boys"