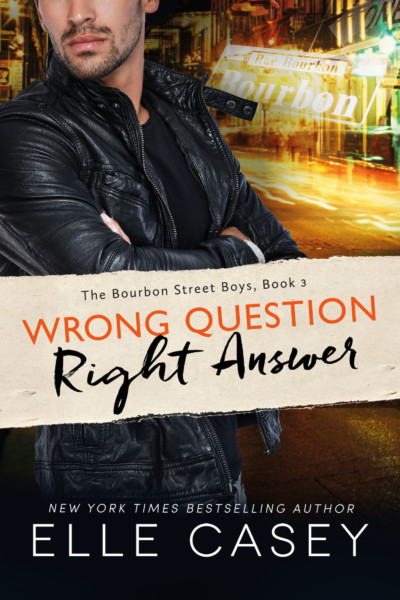 $9.99
eBook:
FREE on KU, price varies
Audiobook:
$9.95
As a member of the Bourbon Street Boys private security firm, Antoinette "Toni" Delacourte is one strong woman, but despite her reputation for being tough as nails, she is haunted by her past mistakes. Now they're catching up to her, and throwing her for a loop. Ten years ago, Toni kissed Lucky, her brother's best friend. Worried it would break apart the group she'd come to see as family, she walked away—straight into the arms of Charlie, and an abusive relationship. For the past decade she's tried to keep her feelings for Lucky platonic—he's her friend, her colleague, and he's got his own past to deal with. Free of Charlie but unable to shake his memory, Toni finds herself feeling vulnerable and unable to deny her attraction to Lucky any longer. She's always thought that kiss was her first mistake, but now she's wondering whether the real mistake was running away.
About the Book
With over 500 5-star ratings on Goodreads for Book 3, readers can't get enough of the Bourbon Street Boys series!
HERE'S WHAT READERS ARE SAYING ABOUT WRONG QUESTION, RIGHT ANSWER:
"Super stubborn Toni, super sexy Lucky, and a whole lot of fun and action. I loved the storyline, I loved the writing and the characters were all perfect. I was laughing, a lot, tearing up, a little, and praying for a happy ending. Fantastic story, beautifully written." ~ Pamela Lilley, Goodreads reviewer
"I loved it! It's the most heartfelt book of the series. I learned so much more about Toni and Lucky's unfortunate pasts which endeared them to me more. This is a story of two broken souls fixing each other. I highly recommend it." ~T. Jones, Goodreads reviewer
"I so loved this book! I've been impatiently waiting for Toni's story since the beginning of the series. Lucky completely pulled my heart in the last book. . . The story has lots of ups and downs emotionally and even some suspenseful and surprising moments. I loved how the characters transformed and grew throughout the book. Now, only one Bourbon Street Boy is still left standing single. I can't wait to read his story!" ~Sparkymom, Goodreads reviewer
Wrong Question, Right Answer is published by Montlake, Amazon's imprint, and is exclusive to that platform. That doesn't mean you need a Kindle to read it. You can download the free Kindle app, and then read the book on any device, including a Nook or smartphone. The paperback is also available at Barnes & Noble, Walmart and Sam's Club, and you can listen to the audiobook on Audible or iTunes. Enjoy!
Don't forget to check out my Pinterest board for the Bourbon Street Boys series!
Other Books in "Bourbon Street Boys"