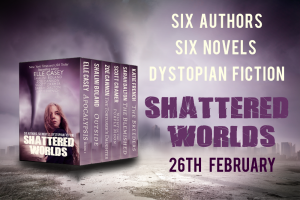 Shattered Worlds is on TOUR, people. There's a crazy schedule going over the next few days. If you drop by these blogs listed below on their specific hosting dates, you can expect to find exclusive excerpts from the novels and some guest posts from the authors. There's an opportunity to enter the Shattered Worlds giveaway and win a $60 gift card, so go check out these bloggers!
Please stop by to show us some love.
26th February
Playing Jokers
Mythical Books
Read More, Sleep Less
Jess Time To Read
Donnie Darko Girl
K.F.Breene
Vanilla Moon Blog
Old Victorian Quill
Happy Indulgence Books
Sarit Yahalomi
Trina's Tantalising Titbits
Mom with a Kindle
Primorose Musings
Becca Anne's Book Reviews
Aria Kane
Booky Thoughts and Me
Share My Destiny
Day Dream Books
Simplistic Reviews
A Touch of Book Madness
A Dream Within a Dream
To Dream with Eyes Open
Wonderful Monster Book
Reviewing in Chaos
We Do Write
Girls with Book
Rude Mom
Living in a Book World
Marked by Books
Gin's Book Notes
27th February
Two Ends of the Pen
Purple Shadow Hunter
Books Direct
I Love Books
Sassy Book Lovers
The Book Bag
The Bookish Confections
Fantastical World of Wonders
28th February
Why I can't Stop Reading
Shayna Varadeaux
Books by Kay
Contagious Reads
Creating Serenity
Bawakas Book Fair
Crazy Beautiful Reviews
Literary Me
Fuonlyknew
Wanted Readers
Pieces of Whimsy
Naughty Book Eden
1st March
Bibliophile Mystery
Vanya Drum
Yearning Mermaid
My Book Addiction
Reviews by Jasmine
Magic Inside Pages
Book Liaison
Cada Libro Un Mundo
Ebook Escapes
Literary Winner
Rockin' and Reviewing
Fundinmental
Sun Mountain Reviews
Mismatched Bookends
Books to Breathe
2nd March
Once Upon a YA book
Buried Under Books
Michael Scifan
Book Lover's Life
Live a Thousand Lives
All Things in the Cloud Sweet
The Cover Contessa
Scandalous Bookblog
3rd March
Thoughts at One in the Morning
Addicted Readers
A Book Addict's Bookshelves
So Many Books, So Little Time
FicCentral
Deal Sharing Aunt
NaYa Books and More
Thank you SO MUCH to all the bloggers who have signed up for the Shattered Worlds tour!! The six of us are completely thrilled with how many of you have agreed to host our book.
Don't forget that Shattered Worlds is now on sale at the bargain price of 99¢ (77p in the UK). Check out the buy links below if you would like your copy.
Amazon.com
Amazon UK
Amazon Deutschland
Amazon Canada
Amazon Italia
Amazon Espana
Barnes and Noble
Kobo
Smashwords