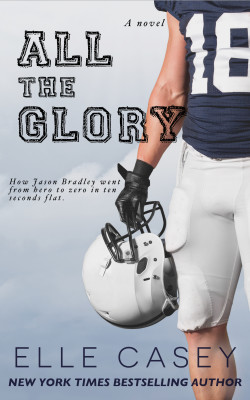 Jason Bradley has everything going for him. He's Banner High's first-string varsity wide receiver, headed to another State championship, and the college recruiters are already knocking on his door. His girlfriend is every guy's dream, there's a brand new black Camaro with a 6.2L, V-6 engine parked in his garage, and he's on cruise control. But when the school's beloved football coach turns up dead and Jason's found standing over the body, his cruise control cuts off bringing his charmed life to a screeching halt, and the reality of being an accused murderer of the first degree takes over. When everyone else walks away and leaves him to hang, one girl can't. But it's going to take more than guessing and wishing to get through to him and the truth of what happened, since he seems bound and determined to accept his fate as a criminal, tried as an adult and eligible for lethal injection. Can one really determined girl get to the bottom of the mystery when no one else seems to care? It would be so much easier to watch him go down, and for many, maybe just a little bit too satisfying. After all, who isn't guilty of finding pleasure in seeing that perfect someone suddenly exposed for the self-centered prick that he really is?
About the Book
HERE'S WHAT READERS ARE SAYING ABOUT ALL THE GLORY:
"I applaud Elle Casey, this is a brilliant novel. I am not new to this genre, but I am to this author, and her book just blew me away. I loved every minute of this book because the characters are so well written and realistic, and true to the very end of the book. Not only are the main characters of Katy and Jason authentic, but they are supported by a wider circle of characters who are all original, interesting, detailed and well rounded out. I also appreciated that the timeframe in the book was realistic (because we all know that the judicial process is not quick), and the story was allowed to develop naturally over time (without being slow or boring!)…" ~ Matt Donaldson, Amazon Reviewer
"I just finished All The Glory and absolutely loved it… It's an amazing story with an incredible message. There's the ever present Elle Casey humor and wit right alongside tough topics and yet once again Elle Casey shows that she's up to the challenge of tackling those topics and that she can do so with grace and humor. Plus she throws in so many other moral dilemmas such as friendship, loyalty, empathy and love. The book does have a dark side to it but that only makes the positive messages all the more powerful…" ~ Jamie Pinson, Amazon Reviewer
"Sometimes you come across a book that hits you right in the gut with its subject and the way they approach it… All The Glory is one of those books I will always remember. The characters were rich and relatable. A little quirky yet lovable, the story strong and engaging. With this one book Elle Casey has became an author I will not shy away from reading anything she writes. Five stars is as high as I can go but if I could I would go closer to 9 stars if they would let me. A truly amazing read and well worth the late night I put in to finish it." ~ Angie, Goodreads Reviewer
"It is no secret that Elle Casey is one of my favourite authors, because I find her books hilarious. This book had some really awesome LOL-moments, however it was the story, the development of the characters and the very real and human emotions and thoughts in this book, that really did it for me. I loved Katy and Jason's story, and I thought the things that Katy feels were very real. If you love a good romance/growing-up/finding-your-place-story, this is the book for you!!" ~ Line Pederson, Goodreads Reviewer
Other Books in "Stand-Alone Novels"