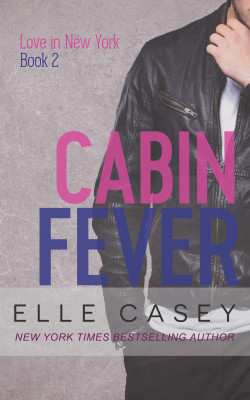 $14.95
eBook:
$4.99
Audiobook:
$17.95
An artist's retreat turns into a snowbound intervention. Jeremy Oliver's on a one-man mission to forget, while Sarah Booker's on a one-woman mission to remember. What happens when two opposing forces like theirs get snowed in together? Cabin Fever ... Fireworks, tears, ghosts, and maybe even love.
About the Book
LOVE IN NEW YORK SERIES READING ORDER:
Lost and Found (Love in New York Book 1)
Cabin Fever (Love in New York Book 2)
Mister Fixit (Love in New York Book 3)
HERE'S WHAT READERS ARE SAYING ABOUT LOVE IN NEW YORK, BOOK 2:
"Amazing!!! A perfect, unpredictable romance. Loved it start to finish. Can't wait to read the next book in this wonderful series." ~ Rhonda Bartos, Goodreads reviewer
"WOW! I can honestly say this was one of my favorite books! I couldn't put it down. It was one of those stay up WAY PAST your bedtime to keep reading to find out what happens next! I am tired but I am very satisfied with how this book progressed and ended.. I just wish it could have kept going on and on and on…. Elle Casey sure didn't disappoint as I knew she wouldn't!!!"  ~ Amazon Reviewer
"Another book that will keep you up all night, because you won't be able to put it down. I am totally loving this series from my favourite author. It's great to read books that aren't predictable. This is another great read, I highly recommend." ~ Lisa Berardi, Amazon Reviewer
"Awesome continuation of the series. I laughed, cried, and laughed some more. Can't wait to read the last installment in the series."  ~ Amazon Reviewer
A message from Elle about this series: I'd never been to New York City before, but I knew I would love it and wanted to write a story that was set in the most exciting city in the world. So I hopped on a plane with my friend Susan and spent 5 whirlwind days there, soaking up the culture, seeing the sights and nailing down the scenes that would eventually end up in this series. Those of you familiar with New York City know what I'm talking about when I say you just can't beat Russ and Daughters' bagels, Central Park, Times Square, Brooklyn, and Yonnah Schimmels' knishes.
Don't forget to check out my inspiration for the Love in New York series on Pinterest!
Other Books in "Love in New York"