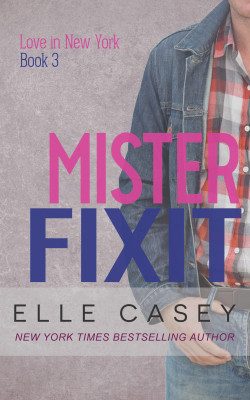 $14.95
eBook:
$4.99
Audiobook:
$18.95
Jana is left devastated after her brother starts his recovery and her niece is taken out of her care. At loose ends, she decides to purchase a fixer-upper in one of her favorite areas of Brooklyn, thinking the work will get her mind off her loss and the intense feelings of anger and disappointment she has toward the family attorney, Robinson. But she gets in over her head and needs someone who can not only fix her roof but someone who can fix her broken heart.
About the Book
LOVE IN NEW YORK SERIES READING ORDER:
Lost and Found (Love in New York Book 1)
Cabin Fever (Love in New York Book 2)
Mister Fixit (Love in New York Book 3)
HERE'S WHAT READERS ARE SAYING ABOUT LOVE IN NEW YORK, BOOK 3:
"Loved this book, the author is so talented at writing great characters and creates the funniest behaviour in serious situations. I just love this series and family…" ~  Lisa Berardi, Amazon Reviewer
"Jana and Robs' love story was told in such a way that made you feel like you were right there with them going through all of the struggles and heartbreak and finally love. A must read!!!!" ~ Karen Monasterio, Goodreads Reviewer
A message from Elle about this series: I'd never been to New York City before, but I knew I would love it and wanted to write a story that was set in the most exciting city in the world. So I hopped on a plane with my friend Susan and spent 5 whirlwind days there, soaking up the culture, seeing the sights, and nailing down the scenes that would eventually end up in this series. Those of you familiar with New York City know what I'm talking about when I say you just can't beat Russ and Daughters' bagels, Central Park, Times Square, Brooklyn, and Yonnah Schimmels' knishes.
Don't forget to check out my inspiration for the Love in New York series on Pinterest!
Other Books in "Love in New York"