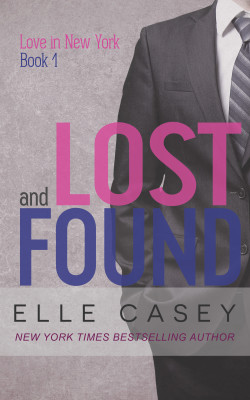 $16.95
eBook:
$3.99
Audiobook:
$23.16
Sometimes engagement rings can get lost and then found. Sometimes people can too. All it takes is a heavy-duty dose of karma and the magic of Manhattan to make it all come together. Leah is a financially destitute new age hippy. James is a wealthy surgeon with a trust fund. She's awkward, he's poised. She's completely crazy, he's way too sane. People might say they have nothing in common, but they'd be wrong. They both live in Manhattan, they both have no idea how to change a baby diaper, and they're both lost … until they find one another.
About the Book
With over 450 5-star ratings on Goodreads for Book 1, readers love the Love in New York series!
LOVE IN NEW YORK SERIES READING ORDER
Lost and Found (Love in New York Book 1)
Cabin Fever (Love in New York Book 2)
Mister Fixit (Love in New York Book 3)
HERE'S WHAT READERS ARE SAYING ABOUT LOVE IN NEW YORK, BOOK 1:
"This was an excellent read. I couldn't put it down! I loved how it was told from both female and male perspectives. It had me laughing out loud and gave me awe moments. Would definitely recommend!" ~ S Kastelz, Amazon reviewer
"Extremely funny! My family thought I was losing it when at times I laughed so hard I couldn't talk! So glad I purchased this book! Definitely recommend you read it!" ~ B. Mummert, Amazon reviewer
"Great read! I loved this book. I laughed throughout the entire storyline… I have recommended this book to friends that I think will enjoy the lightness and humor in it. Can't wait to see where she takes us next in this series." ~ Amazon Customer
"Awesome!! This book had me laughing! It was sweet and oh so romantic. I LOVED it and would recommend to anyone looking for a good sweet read." Sheyla, Goodreads reviewer
A message from Elle about this series: I'd never been to New York City before, but I knew I would love it and wanted to write a story that was set in the most exciting city in the world. So I hopped on a plane with my friend Susan and spent 5 whirlwind days there, soaking up the culture, seeing the sights, and nailing down the scenes that would eventually end up in this series. Those of you familiar with New York City know what I'm talking about when I say you just can't beat Russ and Daughters' bagels, Central Park, Times Square, Brooklyn, and Yonnah Schimmels' knishes.
Don't forget to check out my inspiration for the Love in New York series on Pinterest!
Other Books in "Love in New York"