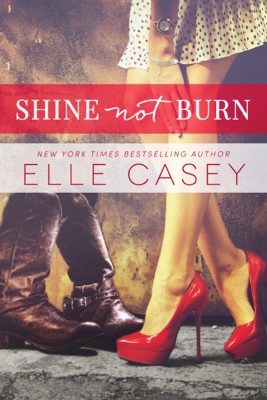 $9.99
eBook:
$3.99 (price will vary)
Audiobook:
$9.95
Andie Marks, known as "Party Girl" in her college days, is now a whip-smart lawyer on the fast track to success. Determined to move on from a bad break-up, she joins her girlfriends for a wild bachelorette weekend in Las Vegas, promising to let her hair down just this once. Vegas is a blur of cocktails and blackjack, and in the middle of it all she meets Mack, a real-life cowboy with a winning hand and an irresistible body. They get lucky in the casino and luckier back at the hotel, a hot night of passion that was definitely not part of Andie's life plan. By dawn Mack is gone and all she has to remember their one-night romance is a hangover and a pile of casino chips. Or so she thinks…
About the Book
With over 950 Amazon reviews and over 6,500 5-star ratings on Goodreads, readers love Andie and Mack!
HERE'S WHAT READERS ARE SAYING ABOUT SHINE NOT BURN:
"All it took was the blurb for me to know that I wanted to read this book and from the first few pages I was hooked! It was a total escape from reality. The character made me fall in love, the romance made me swoon, and the witty writing kept me laughing and chuckling the whole way through. It was the perfect light-hearted, romantic read." ~ Aestas Book Blog
"My Swoon is from 'SHINE NOT BURN' by Elle Casey. Andie and Mack are hilarious! I've never laughed so much while reading a book as much as I did with this one. Andie had me crying I was laughing so hard. She is just the funniest heroine klutz ever and Mack is swoon worthy. " ~ I Heart YA Books Blog
"I loved everything about this book, the characters, the supporting cast, the dialog and the story line. It's cute, sexy, and laugh-out-loud funny in parts… I can't wait to try more books from Elle. For a fun read I highly recommend this one." ~ An Avid Reader, Amazon Reviewer
"OMG OMG OMG I love this Freakin' book!!!!!! It is so good. OMG I am in yummy cowboy heaven. This is my first time reading a Elle Casey book, and I am now a total fan girl. This is such a funny, sexy, and sweet love story I was swooning all over the place. I was laughing so hard at times that my husband kept coming and reading over my shoulder and snickering himself." ~ Jessica's Over The Top Book Obsession blog
Shine Not Burn is published by Montlake, Amazon's imprint, and is exclusive to that platform. That doesn't mean you need a Kindle to read it. You can download the free Kindle app, and then read the book on any device, including a Nook or smartphone. The paperback is also available at Barnes & Noble, Walmart, and Sam's Club, and you can listen to the audiobook on Audible or iTunes. Enjoy!
Don't forget to check out my inspiration for the MacKenzie family on Pinterest!