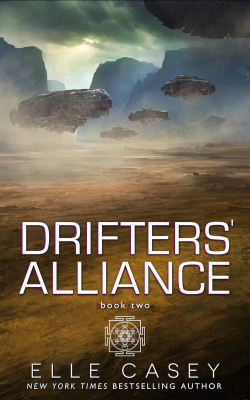 $11.95
eBook:
$3.99
Audiobook:
$15.77
Captain Cass and her crew are drifting, waiting on word from the Alliance that they're ready to meet. But something pops up in her clearpanel that she wasn't expecting, and people with hidden motives are stirring up more trouble than she can handle alone. It's going to take a little help from some friends to get her out of this mess. Hopefully, she still has some left who are willing to take a risk on her.
About the Book
SERIES: This is Book 2 in an ongoing series. More books coming soon for this series!
GENRE: Science Fiction, Space Opera
AUDIENCE: For older teens and adults
CONTENT WARNING: Colorful language, sexy stuff, and general badassery
HERE'S WHAT READERS ARE SAYING ABOUT DRIFTERS' ALLIANCE, BOOK 1:
"I couldn't put it down! The feel of the story reminded me of FIREFLY! So for you sci fi geeks like me I would say this book is SHINEY! for everyone else its a great story and I enjoyed it a lot. I highly recommend buying it, you won't be sorry." ~ Deanna, Amazon reviewer
"Page turner… Just like with other books by Elle Casey once I picked this book up I couldn't put it down and before I knew it I was done… I can't wait to see what happens next. In fact I have already pre-ordered book 2. Happy reading."  ~ Jana La Pelle, Goodreads reviewer
"Hooked! Absolutely, positively LOVED it! Devoured it in a few hours and now I'm craving more. As usual, with Elle's strong writing and blend of humor packed into a butt-kicking female heroine, you're going to get a great story. Also typical of her writing, it will be easy to get lost in this world." ~ Laura Shipp, Amazon reviewer
"Drifters' Alliance is very different than Elle Casey's other work, but it is still just as amazing! Elle has a talent for making the characters come alive… I can't wait for the next book in this series. If you have never read sci-fi or space operas before this is the one to start with!" ~ Ken Kennedy, Goodreads reviewer
Other Books in "Drifters' Alliance"