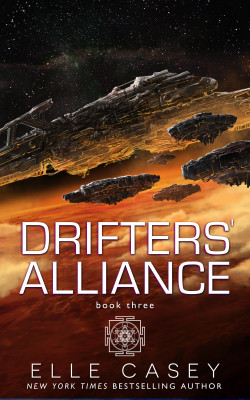 $11.95
eBook:
$3.99
Audiobook:
$15.77
Captain Cass and the crew of the DS Anarchy have been accepted into the Alliance, and plans are in the works to move forward as independent yet allied drifters. Unfortunately, the OSG isn't onboard with their plan, and people high up in the chain of command are determined to bring Cass to heel.
About the Book
SERIES: This is Book 3 in an ongoing series. More books coming soon in this series!
GENRE: Science Fiction, Space Opera
AUDIENCE: For older teens and adults
CONTENT WARNING: Colorful language, sexy stuff, and general badassery
HERE'S WHAT READERS ARE SAYING ABOUT DRIFTERS' ALLIANCE, BOOK 3:
"Once again Elle has done it! Written a book I couldn't put down. If you want action, adventure, surprises, suspense, laughter etc this is a must read! Just like books one and two in this series I CAN'T WAIT for book 4 !! I really wasn't sure I would like a "space" book so to speak but was I wrong! Elle has a way with words like no author I have ever read. I would read this book more then once!" ~ Amazon reviewer
"This series has got me hooked! I love the characters; the storyline reminds me of Firefly." ~ Judemh, Amazon reviewer
"Loved it! Couldn't put it down once I started reading it and now the long wait until book 4. Have enjoyed all Elle Casey's books. She has become one of my favorite authors." ~ Lisa642, Amazon reviewer
Other Books in "Drifters' Alliance"