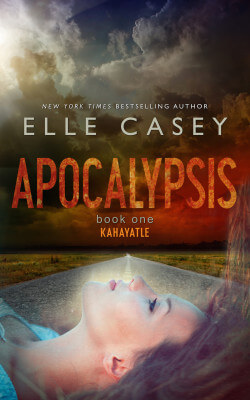 My name is Bryn Mathis. I'm seventeen years old, and I live in a neighborhood outside of Orlando, Florida. I'm here alone because my dad died almost a year ago, along with all the other adults in the world. I'm almost out of food, and the gangs of kids that roam around my town are getting more vicious by the day. It's time for me to leave and find another place to live ... a place where I can find food and shelter ... a place where they won't be able to find me. Alone, it might have been possible, but now I've got company. I'm worried that I don't have what it takes to get from here to my final destination, and I have no idea what might be waiting for me when I get there.
About the Book
With over 900 5-star ratings on Goodreads for Book 1, readers love the Apocalypsis series!
APOCALYPSIS SERIES READING ORDER:
Kahayatle (Apocalypsis Book 1) **FREE! (at most retailers)**
Warpaint (Apocalypsis Book 2)
Exodus (Apocalypsis Book 3)
Haven (Apocalypsis Book 4)
This series is dedicated to the amazing, wonderful Native Americans who populate our nation, continuing their traditions and reminding the rest of us that sometimes, progress isn't always the best thing for our people. I invite you to learn more about the Miccosukee tribe, their history, culture, and lifestyle here.
HERE'S WHAT READERS ARE SAYING ABOUT APOCALYPSIS, BOOK 1:
"The storytelling was absolutely first class." ~Trevor Morris, reviewer
"I read A TON of dystopians and post-apocalyptic novels. They all run together, but not this one. This is the kind of dystopian that I want to read.  I love the world Elle Casey has created. It's a tamed-down, less-depressing, good-humoured The Road meets a more-aggressive, less sophisticated The Silence of the Lambs. Read this! It's bloody brilliant." ~ Lucas Deal, Goodreads Reviewer
"If you don't enjoy reading books that tend to be addictive and take over your life until you have finished reading it, stay away from Apocalypsis. It was nearly impossible to put down. It is also funny – I spent most of the book chuckling or full out laughing." ~ Tiffany Loves Books, Blogger and Goodreads reviewer
"Wonderful series! Loved the depth in this series! All the events were realistic! The characters were lovable, endearing and some I wanted to hate! Was so disappointed when I came to the end of the last book in the series. I wanted more!" ~ Lucinda, Amazon reviewer
"This was one of the few books I read this year that I could not put down… It's filled with moments that will make you laugh out loud and those of absolute horror. The characters are distinctive and memorable, from Bryn and Peter and Bodo (the main three) right on down to the supporting characters and even the dog. They all possess a great deal of depth that keeps you invested in every little thing that happens to them. It's clear that the author either knows the areas in Florida she is writing about or has done a good deal of research. The setting is as fully detailed and envisioned as the characters. The struggle for survival is made all the more believable by this. I cannot wait to read more of this series." ~ Jenessa David, Amazon reviewer
Don't forget to check out my inspiration for the Apocalypsis series on Pinterest!
Other Books in "Apocalypsis"