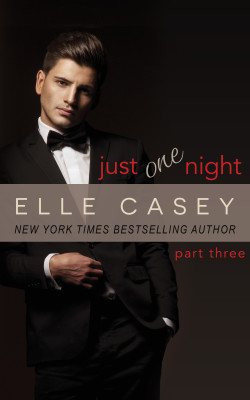 Jennifer's idea of relaxing is a spa day with her best friend, but even when she's slathered in avocado and wearing cucumber glasses, there's no escaping the fact that she cannot get memories of a certain guy and a certain night (or two) out of her head. When her ex shows up out of the blue to throw a wrench in her plans, she has to decide once and for all how far she's willing to go to be the successful businesswoman she wants to be. William is willing to do just about anything to get rid of the albatross hanging around his neck, even if it means having to learn way more about his assistant than he ever wanted to know. When he gets a surprise phone call with an offer of a proposal, he can hardly say no ... even though it means inviting complications he's dedicated his life to avoiding.
About the Book
This ebook is Part 3 of the serial romance novel, JUST ONE NIGHT, approximately 25,000 words or 105 paper pages long. The story continues with Parts 4-6.
HERE'S WHAT READERS ARE SAYING ABOUT JUST ONE NIGHT, PART 3:
"I love Elle Casey and her witty, funny, non-stop addictive serial romance. 'Just one night' has me wrapped up in all its British-American goodness… Whatever this author touches is pure writing gold and this part three of her ongoing saga is no exception. I have fallen in love with this goofy, sexy romance and I'm happy to carry on reading about this delicious attraction between the feisty but vulnerable American, Jennifer and the adorably British William." ~ Lisa Jayne, Goodreads reviewer
"I love how Elle Casey adds her witty touch to each book along with some pretty sexy moments…  These short installments are great. I love how the characters and the story are progressing. Each installment is fresh with new twists and turns that have you needing the next one." ~ Sharon, Goodreads reviewer
"Oh my goodness I love this series. I cannot even tell you. The main male character William is so adorable and charming. He is strong without being obnoxious. He is also sweet and so nice without being a wimp. These books are also funny (actually William is the funny one). He is also British and what he says and how he says it is so funny. Love it! I would highly recommend this series." ~ B.D., Amazon Reviewer
A message from Elle about this serial: Hello readers! I had such a great time writing this serial. Like you, I had no idea what was going to happen from one part to the next. I didn't even know how many parts there would be. It was great having all the feedback from my readers as each part was released; it definitely influenced the end result. I'll be doing another serial romance with Edward's story, JUST ONE WEEK. Click here to add it to your Goodreads shelf today!
Other Books in "Just One Night"