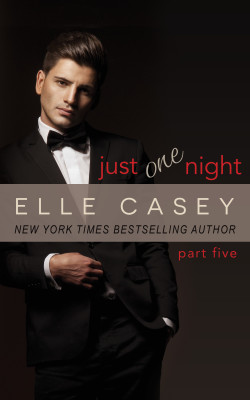 Jennifer thought they had everything figured out. She and William were going to start over from scratch and take a chance on a real relationship. But then he doesn't call, and she wonders if she somehow managed to misinterpret everything. Further investigation puts her on William's doorstep, walking into a hell of a mess. William is at loose ends, no longer part of the family fold and suffering the fallout in the form of take-out and hagfish. Will he find inspiration and meaning again or will he crash and burn?
About the Book
This ebook is Part 5 of the serial romance novel, JUST ONE NIGHT, approximately 23,000 words or 93 paper pages long. The story concludes with Part 6.
HERE'S WHAT READERS ARE SAYING ABOUT JUST ONE NIGHT, PART 5:
"This series is laugh out loud funny…" ~ Karen, Amazon reviewer
"This is the series that just keeps giving. Still addicted! Stays fun and interesting in each book!" ~ Amazon reviewer
"JON is so addicting! Hahaha, all of Elle's books are, though. I adore this whole series. Funny and realistic, makes ya laugh, think, cry, it has it all. A recommended read, for sure." ~ Dona K, Amazon reviewer
A message from Elle about this serial: Hello readers! I had such a great time writing this serial. Like you, I had no idea what was going to happen from one part to the next. I didn't even know how many parts there would be. It was great having all the feedback from my readers as each part was released; it definitely influenced the end result. I'll be doing another serial romance with Edward's story, JUST ONE WEEK. Click here to add it to your Goodreads shelf today!
Other Books in "Just One Night"